Blog
Best suspension trainer reviews 2023
First published: 02/23/2017
Last updated: 11/29/2023
TRX Training – Suspension Trainer Basic Kit Review
The TRX suspension training kit is a simple and effective fitness kit that can be used in various situations.
It is meant to help you to achieve your full fitness potential without having to strain too much. Going by the feedback provided by those who have used this kit, anyone with fitness goals can rely on it.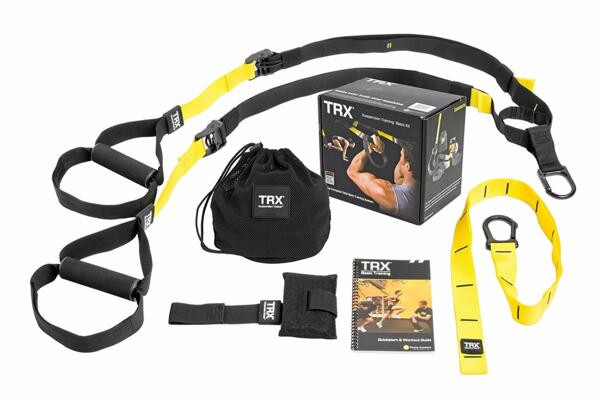 It has a suspension training strap and a suspension anchor. In addition to that, there is a door anchor and a workout guide to get you started. Whether you like traveling or just staying in multiple locations, it will always be useful.
Pros
It is an all inclusive package - Kit comes with all the accessories that you need for a full body workout.
It has lots of benefits - This is the kit that you need when you want to burn fat, tone muscles, and increasing your strength. It is useful for amateurs as well as professional bodybuilders.
It is portable - If you are looking for a kit that you can carry with you anywhere, this is your best choice.
Cons
Although there are various anchors, the product does not have a ceiling mount.
You may not know how to use it effectively until you have tried it severally.
The materials and workmanship may be too solid especially if you are a newbie.
Conclusion
In a nutshell, the TRX Suspension Training Kit can help you to get yourself in a better shape.

However, that only happens when you know how to use it rightly. Take some time to read the user manual that comes with it.

You also should watch the videos so as to get the best experiences during your workout sessions.
---
GYMSTUFF G-STRAP Suspension Body Fitness Trainer Review
The Gymstuff Fitness trainer comprises of a set of accessories of straps meant for workouts. The manufacturer includes high quality material in the straps. The strength and comfort while working out are factors that the products guarantee to all users.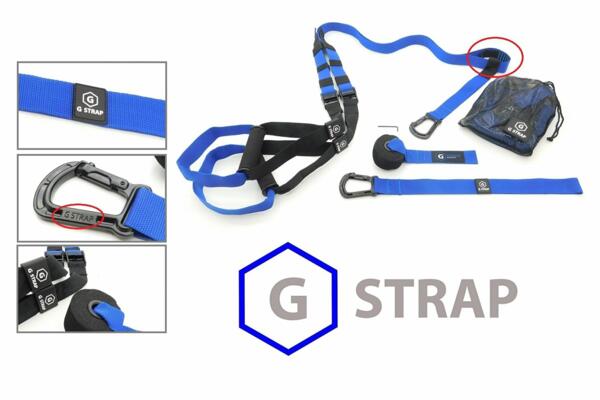 Carabiner Hooks: These hooks have adequate strength thanks to the high-grade material used. The size and shapes of the hooks favors home installations, with no compromise on heights and efficiency. The hooks support wrenches, in case the users want to adjust the lengths of the straps to favor different home requirements.
Webbing and Accessories: Another remarkable feature is the bigger webbing width. While other straps have one inch, the Gymstuff has a 1.5' inch. This adds to the strength of the strap as well as durability. The package comes with essential accessories such as an extension and a door wheel.
The door wheel is a home accessory that allows users to attach the straps on doors while the extension link acts as a wrapper for gym objects.
Pros
Portability - The whole backpack is easy to carry with all accessories available, thanks to the drawstring aspects. The fabrics used are foldable to fit in the bags provided. This has made it useful even for institutional use.
Guaranteed Strength - The use of strong fabrics as well as strong metal springs assures the straps are strong enough. The webbing and hooks also have guaranteed strength to all users.
Affordability - Gymstuff G-straps retails at a very good price, which is economical especially when related to the expected period of service.
User Friendliness - The package comes with a user guide for users to learn on the different ways to use the straps.
Cons
Incompatibility - Some of hook sizes are incompatible with home doors, making them useless to some users.
Risky - With no maximum weight stated, it would be risky for heavy weights trying to use the straps.
Vulnerability to Faking - Some customers have complained of purchasing imitates of these straps, meaning the manufacturer has not done enough in this.
Conclusion
Cheaper than most of other competitive brands, even with the quality guarantee from the manufacturer. Great buy.
---
WOSS AttacK Trainer Made in USA - PRO Suspension Fitness System with Rubber Sleeve Grips Review
The WOSS attack trainer is a must have for any fitness enthusiast. It sports a practical D ring on the top with a strap running right through it. This design allows the handles to move back and forth on the D ring which directly translates to more exercise variations to work out your core muscles.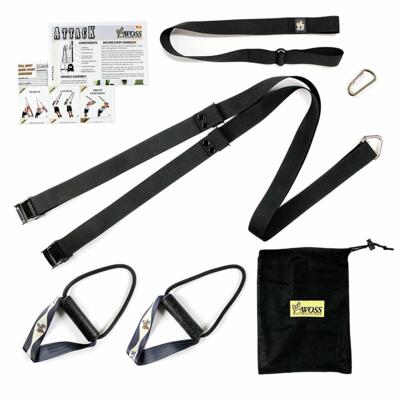 With the WOSS suspension trainer, you'll never have to fret over the strap adjusters slipping down during workouts like other more expensive brands in the market. It comes fitted with some extra strong rubber sleeve grips that make this a perfect addition to your home gym.
No other personal trainer packs a heavy punch of extras like the WOSS. My favorite feature, however, has to be the military anchor strap. If after running trails you still fancy a full body work out in the great outdoors, simply attach it to a tree trunk or branch and let your core muscles have it. It's portable and light to carry around.
WOSS trainers are strong and user-friendly. You can now confidently train without any restriction or friction slowing you down. When you work out with such first class equipment, the experience is like no other and the results are insane with consistent use. They even throw in a cheat sheet demonstrating a variety of exercises to get you started on your journey to fitness.
Learning how to adjust the straps that hold the buckles in place can be a bit challenging at first. So, try not to get frustrated when it doesn't work as expected after a few tries.
The WOSS trainer seems well made but some users have expressed concern over the light gauge of the nylon straps which they feel might not hold up in the long run. It, however, boils down to a matter of different preferences among home gym users.
Pros
Military anchor strap
First class equipment.
Extra strong rubber sleeve grips
Cons
Most doors open into a room which means you might have to use the trainer outside your training room. Working out in a hallway with limited wiggle room ultimately becomes your best choice.
Adjusting the straps can be challenging.
Straps can be become a little loose
Conclusion
Very well built and costs less then competitors. A perfect addition to your home gym.
---