Blog
Different types of Rowing machines 2023
First published: 02/02/2017
Last updated: 11/17/2023
Rowing machines, also known as rowers, simulate the actual rowing action done in the waters, like padding back and forth. This equipment is basically used to exercise the muscle parts of the body that is usually exercised in actual rowing actions.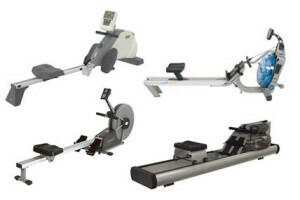 Indoor rowing machines are a great way to experience a total body workout, and it does not matter which type of rowing machine you use, the exercise would cover all your important muscle groups. Rowing machines are also recognized as a great way to improve your cardiovascular muscles, and are a great way to improve your stamina and endurance levels.
Rowing Machines are also distinguished for the fact that they create resistance levels, which varies with every machine.
Here are some of the typical rowing machine varieties for you to select:
Piston resistance
This variety has the following features:
Uses hydraulic cylinders attached to the handles
The handles are adjustable
The handles cannot be adjusted while rowing
Strokes can be less precise because of the handles
Has a fixed seat
Simple and compact in size
Inexpensive
Braked Flywheel
This second variety has the following features:
Uses magnetic, aero and hydro resistance
The handles are connected by a strap, chain or rope
Allows free trajectory of the hands
Uses sliding seats
Magnetic Resistance
Uses electromagnetic resistance
The resistance can be used for its mechanical brake
Adjustable braking resistance
Accurate measurement of energy exerted
Air Resistance
Uses air fins that are fan-like that are used in its braking mechanism
Creates noise while in use
Resistance level is based on the energy exerted by the user
Energy measurement is based on the weight of the flywheel and the speed sensor that measures its deceleration
Often used in competitive indoor rowing
Water Resistance
Uses a paddle-like wheel in a secured tank of water
Provides the feel of being actually in the water
Gives the realistic action of rowing in the water
The resistance is generated when applying more speed to the flywheel
Which devices and trackers do I need on my rowing machine?
Calculating the performance of each of the machine is based on the computation set by the rowing machine manufacturer as well as the effect of the resistance applied.
If you want to get an accurate computation of the energy applied as well as the calories burned, you may want to purchase this type of equipment that has monitor that tracks essential body information while performing the rowing exercise.
Presumably, these types of rowing machines can be more expensive than those that have limited tracking features but can prove to be an essential feature for those who want to monitor the calories they've burned. In the absence of a tracking device, one cannot conclude that they are diligently following the prescribed work-out on their programs.
In the absence of this monitoring device, one may not get his or her desired outcome. You may consult the manufacturer's agent or distributor if some features of the product are quite unclear.
How to decide?
But before you decide which rowing machine is best for you, there are some factors that you need to look into:
Firstly, you should have enough space at your house to accommodate one of the machines, as they use up a lot of space for operation.
Also, read the rowing machine reviews and see what other people like or dislike in a particular model.
Also, some of these machines weight quite a lot too, so you need to make sure where you are locating the machine.
Also, there are machines available that can be fold up after use and stored, but they do not have good quality results.
Also, if you want to work out in a peaceful and noise free environment, then use the magnetic ones. Otherwise Air and Water resistance machines are a better option.